Podcast Consumer Resource Center
This web resource was created to support podcast consumer training for educators that took place through out the state. You will find a Keynote & Powerpoint presentation, a PDF handout, and example podcast content that can be used to introduce educators to the use of podcasts to increase their personal content knowledge and to locate media rich / free content that can be used in the classroom. Feel free to link to this site when training educators. The example podcasts are for STEM educators, but you should be able to use the workshop for teachers in other disciplines by locating your own examples. The downloadable PDFs and presentation can be used in your training programs without gaining further permission. A companion Authoring Podcast web site is avaiable to help educators learn to author podcast content.
Resource Folder
The TRC State-wide Podcast Initiative

The Texas Regional Collaboratives established a statewide podcasting network to support the distribution of online professional development content to Texas science educators. The network includes:
Regional podcast specialists who can offer training in the use of podcasts for education
Centralized hosting of podcast content
Online support resources for the use of podcast in education
A central online index of content
Online support for the authoring process

Ongoing access to internet resources in science and technology education for Texas Regional Collaboratives teachers and educators is supported by the Toyota USA Foundation, AT&T Foundation, our TRC statewide corporate partners.
Explore the tabs above to learn what a podcast is and how to be involved as a consumer of content, to understand the role of podcasting in education, to find a list of podcasts to explore, and to find resources that will help you train educators.
By Keith Mitchell, Ph.D.
Coordinator for Technology Initiatives
Texas Regional Collaboratives
The Basics
What is a podcast?
"The practice of making audio files available online in a way that allows software to automatically detect new files and download them." Wikipedia: Podcasting is a means of one-to-many audio distribution via the Internet. The term was coined from "iPod" and "Broadcast." The term podcasting refers to the process of publishing a podcast series.
What format is a podcast? Is it two way?
A podcast is a one-to-many broadcast medium. It is not live. The podcast may be audio, audio with still images and web links, video, photos, and PDFs.
Is a podcast just a downloadable file?
Not just a file, but rather an ongoing sequence of files, with new content posted on a regular basis. It is more accurate to think of a podcast as a "podcast series," with many sequential episodes.
What are the tools I need to listen?
The free application iTunes from Apple (Windows or Mac) http://www.apple.com/itunes/overview A fast Internet Connection is preferred (DSL, Cable, School Ethernet)
An optional iPod will provide portable access.
Do I have to buy an iPod to listen to or watch podcast?
No, you can just listen or watch on your computer.
So, a podcast is like a daily radio show?
In some ways, but unlike radio, you can listen at your convenience. The episodes, usually audio, download automatically to your CPU and can also be automatically transferred to your iPod when it is connected. You could think of it as TIVO for radio. The episodes are recorded if and only if you have added them to your list.
Do I have to check to see when new content has been added?
No, the free application iTunes is used to manage the process of using podcast content. Within iTunes, you can search and find new podcast, subscribe to podcast of interest (free), and set up preferences as to how often iTunes checks for new content and which podcasts are transferred to your iPod. You can listen to the content within iTunes and do not have to have an iPod to participate in this new information distribution medium.
What does it mean to "subscribe" to a podcast?
It just means you are telling iTunes the URL of a new podcast so that it can check the source for new content on a regular basis. It does not mean that you are communicating with the publisher of the content. Subscribing is anonymous.
Can I use iTunes on a shared CPU to manage my podcasts?
If you are not using an iPod with automatic sync, it is possible, but iTunes will not keep your list of podcast separate from others. If your operating system supports multiple users, then there can be a separate iTunes library for each user.
Where does the podcast content come from?
Traditional print, radio, and video publishers are re-publishing existing and original content as podcasts. Universities are supporting standard and distance learning courses with supplemental podcasts. Museums and other organizations with an educational purpose. Individual self-proclaimed content experts.
Do I have to use iTunes?
If you have another kind of MP3 player, you can use one of several podcast aggregators other than iTunes. Non iTunes aggregators are compatible with MP3 format podcasts, but not the AAC format supported by iTunes which allows embedded images and web links.
What are some of the educational applications of podcasting?
The following are just a few educational applications of podcasting.
Professional development
Supplemental textbook materials
School-to-home communications
Faculty lectures
Daily announcements
Foreign languages
Audio books
Speeches
Music instruction
Test preparation
Synchronized sideshows
Opportunities for authentic learning
Sound-seeing tours
Broadcast student audio plays
Interviews with content experts
Ongoing student produced "radio" talk shows about content learned
What knowledge & skills are required to access podcast content?
Learn to do the following to demonstrate mastery of iTunes management of podcasts:
Download and install the latest version of iTunes.
Learn how to find a podcast of interest.
Listen to a few sample episodes.
Subscribe to the podcasts that will be useful.
Identify your personal iTunes library and
demonstrate how to set your preferences for updates.
Tell me step by step how to use iTunes for podcasts.
The first time you visit iTunes to explore podcast content, following these steps:
Launch iTunes.
Select Podcasts in iTunes Store (Top Black Bar).
Browse featured items represented by icons. Each icon represents a Podcast series
Select a category from the drop down menu that results by clicking the Podcast link (Top Black Bar, triangle on the right)
Browse featured items, switch categories from the left hand coloumn list
Select one podcast series by clicking on its icon or name
Read the series description
Note associated web sites
Click the Subscribe button
Navigate to the podcast section of your iTunes library(upper left)
Expand the series title (small triangle icon)
Select an episode, click the Play button to listen
If the podcast contains video or photos, choose View: Artwork
Click the Get button to download past episodes
How do I transfer podcasts to my iPod?
Connect your iPod and select Podcasts tab Check Sync all unplayed episodes Check those podcasts you wish on your iPod Click Apply Alternatively, choose manual mode to drag content
How do I learn more about the instructional use of podcasting in the classroom?
Apple has three excellent online video segments which address: the tools required for student authoring of podcasts, classroom podcast examples and how students are engaged, and how podcasts can be used by administrators for internal and external communication. To learn more about educational uses of podcasting search for podcasting on Apple's education web portal, the Apple Learning Interchange.
Download this content in PDF format to use as a training handout here:
http://thetrc.org/trc/download/podcasthandout.pdf
Questions? keith.mitchell@mail.utexas.edu
Podcasting in Education

Podcast content and the actual publishing process both have a role to play for the professional growth of educators, for the content knowledge for teachers and students, and as an avenue for authentic media-rich projects by students. With publishing sources such as NPR Science Friday, NOVA , National Geographic, and Scientific American; it is obvious that access to content expertise is a big plus. Think of podcast as a resource for current events. By finding and following key podcasts in your academic area, stay in touch with leading discoveries, theories, and related news. Used in the classroom, podcasts become an ideal media rich "weekly reader" for current events. Searching by keyword and category, it will often be possible to find content related to classroom assignments. Due to the nature of the web, preview all content before using in the classroom.
Educational Applications
Here are a few a few applications of podcasting in education. Some list items are links to example podcasts for that category.
Supplemental textbook materials
Faculty lectures or
Daily announcements
Audiobooks (not free)
Authentic and Engaging Student Authoring Projects
Broadcast student audio plays
Interviews with content experts
Student & Teacher Published Podcasts

The process of publishing a podcast is not difficult, nor is it cost prohibitive. Publishing a podcast on the Internet is a motivating reason to conduct research, write scripts, and work as a team to go "live" illustrating mastery of content. Explore some of the following student and educator published content to see what is possible! To stay on top of the best school produced podcasts subscribe to KidCast.
Podcast Content by and for the Classroom
Many schools are publishing podcasts to support their community communications, to provide teacher professional development, and to give an authentic audience for student multimedia projects. The following podcasts are good examples for you to explore.
Podcast Title

Sample

Podcast Title
Sample
A School in the Coulee Podcast
Our City Podcast
A national project taking submissions
Longfellow Middle School La Crosse, Wisconsin
Broward Schools News 2 Go!
District Announcement Podcast
Podcast Central Mayby Middle School
English as a Second Language
San Marcos Bilingual/ESL iPod Project
Education Conference Connections
Radio WillowWeb
Willowdale Elementary School
Omah, NB

Where in the World
Cow Hear This! - Charles M. Blalack Middle School, Carrollton, Texas.

Education Index on iTunes
Science Alive by Stef Paramoure
iTunes U
KidCast with Dan Schmit
Beyond4Walls Project Carrollton Farmers Branch
KidCast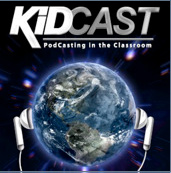 One of the best ways to stay on top of the news about what is happening with podcasting in education is to subscribe to Dan Schmit's podcast, KidCast. Dan is a frequent workshop presenter and conference keynote on the topic of podcasting in education. His podcast episodes include podcast authoring tips, featured schools using podcasting in creative ways, and contests that teachers and students can participate in. Dan has the popular book, KidCast: Podcasting in the Classroom, and excellent resource to learning about podcasting and its role in educational environments. Subscribe to the KidCast podcast. Follow Dan Schmit's technology blog.
Science Podcasts
There are hundreds of podcasts which will help you stay on top of the latest in science news or provide an easy way to bring science current events into the classroom. The following are just a few examples you may want to explore. Click the Sample icons to launch iTunes and then click the Play button in iTunes to listen to or watch an episode. Click the Subscribe button in iTunes to subscribe to the podcast. To see an even larger list of featured science and medicine Podcast episodes, launch iTunes, click the podcast link, then choose Science and Medicine from the Categories section of the page. We have not reviewed all of the following, so check before accessing in public presentations.
Podcast Title
Sample
Podcast Title
Sample
Hidden Universe HD: NASA's Spitzer Space Telescope
NPR: Environment
Science Friday - Making Science Radioactive
Astronomy Cast
NOVA scienceNOW
Science @ NASA Feature Stories Podcast
Science Talk: The Podcast of Scientific American
NASA's Jet Propulsion Laboratory Podcast
60-Second Science
Scientific American
Science Update Podcast
AAAS
NASAcast Video
SkyWatch

NOVA | PBS
WBGH Science Unit
Science Channel Features
NOVA Vodcast | PBS
NASA's Chandra X-ray Observatory
Texas Regional Collaborative
The Royal Society Video Podcasts
Audio Podcasts
The Calculus Lifesaver
Calculus Videos
The Math Dude Quickand Dirty Tips to Make Math Easier
The Math Factor
Mathgrad Podcast
Mr. A's Geometry Podcsast
Math PapaPodcast
Algebra II
Workshop Materials
The TRC Podcasting Netowrk is a project to expand the use of this new communication medium and to establish a statewide science and mathematics professional development Podcast Network to support TRC professional development programs. The TRC Podcast Network will provide an effective infrastructure for communication and is a component of our master plan for online expansion. Using the TRC Podcast Network, content in the form of text, audio, or video will be "broadcast" online from the originator to either specific groups or to our entire science and mathematics education community. Once established, we believe this new communication infrastructure will find many innovative applications. Applications of the Podcast Network will include connecting the classroom educator with content and professional development experts, follow-up mentoring after face to face professional development workshops, delivery of organizational announcements, and increased cross collaborative sharing of effective practice.
The Success of the Network Depends on the Availability of Training and Support
To successfully leverage this online media distribution system, it is important to establish a cadre of Collaborative Podcast Specialists throughout the state. These Podcast Specialists will be expected to provide Podcasting in Education workshops. These workshops will address the skills for accessing podcast content. Any collaborative member can be a podcast specialist just by spending the time to master the technology. This web site will provide the materials you need to train others in using podcasts for learning. The following outline and downloadable materials will help you begin planning your delivery of a workshop and the web site as a whole will provide the resources your attendees can use after participation in your training.
Planning a Podcasting in Education Workshop
Workshop Goal:
Equip attendees with the knowledge and skills required to be consumers of podcast content for science and mathematics education and to provide online resources for continued exploration of podcasting in education.
Workshop Environment
The best environment for training would be a Macintosh or Windows lab so that participants can explore podcast content personally. This will require that iTunes be installed on all CPUs and that all CPUs have fast access to the web. Lacking a lab you can certainly deliver a presentation on podcast use with a presenter's station only. The presentation CPU will need Internet access.
Workshop Outline
Use the Powerpoint or Apple Keynote presentation to answer these questions:

What is a podcast?
What tools are required?
Where do I find content?
Stop PowerPoint to show actual content using Podcast in Education and Science Favorites tabs of this web site. Continue slide show with:
What are the educational applications?
How do I begin exploring podcast content?

Give a live demonstration of iTunes

How to find podcast feature page in iTunes Store
Show description page of specific podcast
Demonstrate how to play sample content
Demonstrate how to subscribe and explain what it means
Show how to find podcast content in your personal library
Demonstrate playing podcast episode in your library

Demonstrate how to conduct a search of podcasts in iTunes
In a lab environment have attendees explore with specific search and subscribe assignments
Time permitting demonstrate how to author a podcast if you have the experience and tools.
Handouts and Resources for the Podcast Consumer Workshop